We want to introduce another way in which chats can be initiated by customers.
In some situations it is better to immediately to connect to a support agent, before the customer types a question.
When the customers want to ask a question, they don't have to formulate a question first, before trying to connect to a support agent. This can prevent frustration by the customer when there is no support agent available at the time. This reduces friction, and leads to a higher NPS score.
Step 1 - Request contact with a support agent.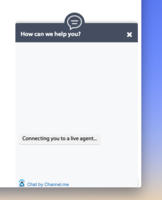 Step 2 - Connected with agent